This technique is non-surgical, doctor-controlled, hands-on spinal manipulation performed with the patient lying on the flexion/distraction table, a proprietary, specially designed chiropractic instrument. This table permits the effective administration of flexion-distraction and decompression adjustment and manipulation.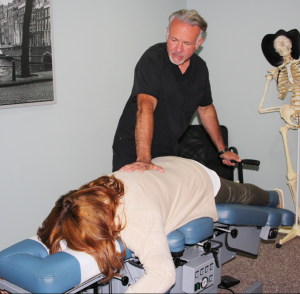 Well-researched and documented, flexion-distraction and decompression helps relieve spinal pain and return patients to their desired quality of life by:
Dropping intradiscal pressure to as low as -192mm Hg
Widening the spinal canal foraminal area by 28%
Reducing pressure on the spinal nerves
Returning motion to the spinal joints
The goal of flexion/distraction technique is to help the spinal pain patient go from "pain" to "no pain" as quickly as possible following the "rule of 50%" which governs the Cox® Technic System of Spinal Pain Management.
Evidence-based flexion/distraction technique is appropriate for conditions causing low back and leg pain as well as neck and arm pain. It also reduces pain attributable to:
Disc herniation
A slipped disc
A ruptured disc
Facet syndrome
Stenosis
Spondylolisthesis
post-surgical continued pain (pain after back surgery) aka FBSS (failed back surgical syndrome)
Other conditions
Schedule An Appointment
Call today at 248-289-6870 or fill out our online contact form to schedule an appointment with Sheldon Chiropractic and Wellness. We look forward to helping you achieve optimum wellness, eliminate pain and feel better.