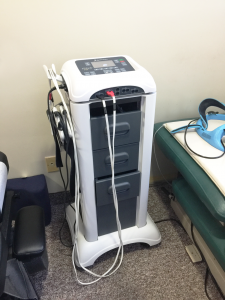 The Solaris Plus Series offers the most options in any one device by including Electrotheraphy, Ultrasound, TriWave Light Therapy, and the ThermoStim Probe.
The Solaris Plus Triwave Light can deliver any combination of 3 wavelengths of light (red, infrared, and blue) using the Dynatron Light Pads. Dual Light Pads allow for greater coverage of a joint, the ability to treat large areas of the body when placed side-by-side, or the treatment of two areas simultaneously.
The Dynatron ThermoStim Probe, is a soft-tissue mobilization tool that also allows us to deliver heat to enhance the effects of warming the fascia and soft tissue during treatment.
Schedule An Appointment
Call today at 248-289-6870 or fill out our online contact form to schedule an appointment with Sheldon Chiropractic and Wellness. We look forward to helping you achieve optimum wellness, eliminate pain and feel better.