Just as lasers have replaced scalpels in some surgeries, advanced technology has become available to chiropractors to assist in delivering chiropractic adjustments. The state-of-the-art Impulse Adjusting Instrument® used to target dysfunctional spinal joints relieves pain and improves function. Experience safe and effective natural health care with the Impulse Instrument Adjusting.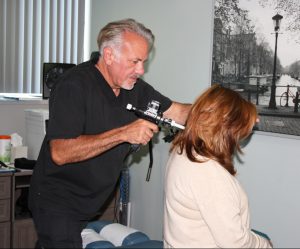 Spinal joints that are out of alignment or not moving properly can affect your health by irritating delicate spinal nerves. When irritated, these nerves alert your brain that something is wrong. Symptoms, including pain, are usually the result. Nerve signals are also sent to your muscles to stabilize and protect the area. You may feel stiff, sore, and tired. As opposed to taking pain masking drugs, which can be dangerous to your health, chiropractic care seeks to locate the source of your symptoms and addresses the underlying cause, so the problem doesn't keep happening.
Chiropractic adjusting with the Impulse Adjusting Instrument® aims to restore your body's balance and function to correct the underlying cause of your symptoms with treatments that are as painless as possible. Getting you back to feeling yourself again quickly and effectively is our primary goal.
TREATMENT FOR
Low Back Pain
Sciatica
Disc Problems
Hip, Knee, or Foot Pain
Neck Pain
Headaches
Numbness
Muscle Spasms or Soreness
Whiplash Injuries
Shoulder, Arm, or Wrist Pain
Carpal Tunnel Syndrom
Scoliosis
TMJ
Fatigue
and much more
Schedule An Appointment
Call today at 248-289-6870 or fill out our online contact form to schedule an appointment with Sheldon Chiropractic and Wellness. We look forward to helping you achieve optimum wellness, eliminate pain and feel better.