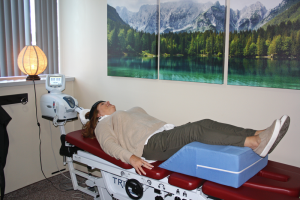 Sheldon Chiropractic and Wellness specializes in both cervical and lumbar spinal decompression, also known as Non-Surgical Spinal Decompression. This treatment option is very safe and utilizes FDA cleared spinal decompression tables to relieve pain by creating an environment within the joint and disc in which bulging or herniated disc tissue is able to move back into place and heal, alleviating the pain this condition causes. Non-Surgical Spinal Decompression is very effective at treating bulging/herniated disks, degenerative disk disease, pinched nerves, sciatica, radiating arm pain, leg pain, facet syndrome, and spinal stenosis.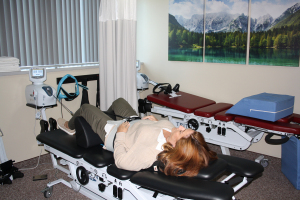 Spinal Decompression Therapy – The Non-Surgical solution
For those who are curious about spinal decompression, know that you are taking the first step by educating yourself. Spinal Decompression therapy allows you to take control of your care and get out of pain. At Sheldon Chiropractic and Wellness, we want you to explore how this revolutionary treatment will help you get back to your preferred lifestyle – Pain Free!
We only use state-of-the-art equipment at Sheldon Chiropractic and Wellness. We use the Triton DTS from Chattanooga medical device company which is considered to be one of the most effective machines for treatment of low back and leg pain caused bulging, herniated, degenerative disk disease and spinal stenosis.
Spinal Decompression is best for:
Herniated Discs
Ruptured Discs
Bulging Discs
Compressed Discs
Cervical Disc Pain
Degenerative Disc Disease
Pinched Nerves
Neurological Conditions
Spinal Stenosis
Facet Syndrome
Failed Surgery
Joint Pain
Carpal Tunnel Syndrome
Spinal Decompression is:
Extremely Safe
Effective
FDA Cleared
Non-Surgical
Not Pain Medication
Affordable
Schedule An Appointment
Call today at 248-289-6870 or fill out our online contact form to schedule an appointment with Sheldon Chiropractic and Wellness. We look forward to helping you achieve optimum wellness, eliminate pain and feel better.