Sheldon Chiropractic and Wellness specializes in Neuromuscular Electrical Stimulation, or Electrical Muscle Stimulation (EMS). Dr. Sheldon and Dr. Vallecorse utilize only the finest state-of-the-art EMS equipment to perform the healing treatments.
W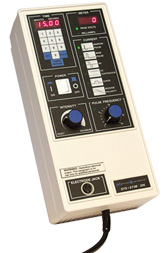 hat is Electrical Muscle Stimulation?
Electrical Muscle Stimulation, also called EMS, is a type of therapy in which electrical impulses are generated by a machine and travel through the electrodes on the patient's skin and then into their muscles. EMS mimics the body's central nervous system by sending safe, low-frequency electrical pulses to the affected area, causing the muscle to contract and increase temperature and blood circulation. The same natural process of the body to repair injuries works with the EMS to relieve other common nervous system disorders, including constant headaches, numbness of limbs, and back pain. EMS is often used for therapeutic applications but some athletes use it for sports training purposes as well. It has been found to be an exceptional way to help the body in the healing process. It works well in relaxing the muscle and allowing it to return to its normal state quite rapidly. The pulses can help reduce swelling and release trigger points that may have the muscle locked up. It also helps the body to release natural endorphins for pain relief.
By utilizing and encouraging the body's natural healing mechanisms, Electrical Muscle Stimulation and similar therapies can drastically reduce the dependence on medications and unnecessary surgeries and help resolve the symptoms of underlying causes much quicker.
Which Conditions can Electrical Muscle Stimulation therapy treat?
Reputable research shows EMS can help treat the following, but is not limited to:
Carpal tunnel
Connective and dermal tissue repair
Increased range of motion in joints caused by such problems as arthritis and injury
Muscle atrophy muscle spasms
Muscle tension associated with long periods of sitting, standing, or lifting heavy objects
Post-surgical muscle regeneration
Sciatica
Sports injuries
Tennis elbow
Ulcers and chronic wounds
Schedule An Appointment
Call today at 248-289-6870 or fill out our online contact form to schedule an appointment with Sheldon Chiropractic and Wellness. We look forward to helping you achieve optimum wellness, eliminate pain and feel better.